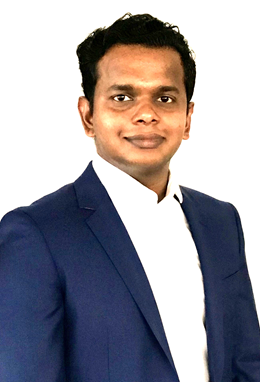 yadu@synergy-global.com
+61 (0) 410-803-515
Yadu Krishnan
Bachelor in Information Technology, Masters in Information Technology Business Analysis (current)
Yadu joined Synergy Global's Graduate Finishing Program in Jan 2018, as an Effectiveness Intern. He is an international student from Kerala, India, currently completing his Masters in Information Technology & Business Analysis at Swinburne University in Australia.
Being a 90's kid, the changes in world technology fascinated & inspired Yadu to move towards a technical career. He graduated from Anna University, Chennai with Bachelor Degree in IT majoring in Networking & Programming. Yadu believes that coupling his technical degree with a management degree, will help him to be an asset to any firm.
Previously, he has worked as a graphic designer at Inform the print media in Kodungallur, Kerala. Where he worked on designing projects based on client requirements, which included drafting & modelling design-work. He is currently helping Synergy Global to review all our Marketing Brochures & Flyers to see how they can be improved.
His interest in Network Security led Yadu to complete his certification on Cisco Certified Network Associate (CCNA) & Certified Ethical Hacker (CEH) on 2016. During his time in Anna University, he was involved in various technical workshops, including participating in Seminars that were conducted across various colleges. Currently, as a busy International Student in Melbourne, he uses his planning & organisational skills to balance keeping fit, with working part-time at Hungry Jacks; completing his Uni Assignment; & studying with Synergy Global, where he hopes to complete his Bronze/Silver Internship Certificate.
During his Master's course study, he excelled in Database, Analysis & Design module where he designed a sample database by defining all key attributes & relationships. He took an elective, where he was able to understand the use of the application Enterprise Resource Planning (ERP) System in an organisation, & various functionality, with good proficiency with Greentree ERP. He achieved good scores in Requirement Analysis Modelling (RAM) & Business Process Modelling (BPM), where he was able to design a business model of various scenarios; finding out various issues with the existing model & making changes to help in developing new business ideas.
The Key Professional Interests he is focusing on during his Effectiveness Internship are:

Learning about the field of Organizational Development (OD), particularly Professional Services & Business Culture.


Understanding how Effectiveness Consulting, Change Facilitation & Executive Coaching can enhance Productivity.


Gaining more knowledge by using distinctive tools/methods for Continuous Quality Improvement (CQI).


Creating a Professional Role Profile, Individual Performance Plan (IPP) & Personal Development Plan (PDP).


Using the SG Competency Framework to develop more confidence in my competences/capability as a Masters Intern.


Improving the technological functionality of our existing system at Synergy Global & transferring my skills to the team.
He lives in McKinnon, a suburb in south-east Melbourne, Victoria.and he is passionate about cinematography & entertainment media.