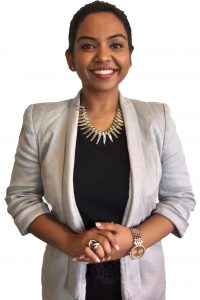 tharika@synergy-global.com
+61 (0) 478-771-340
Tharika Mohanadasan
B.Eng Mechanical Engineering, Master of Management (expecting to graduate in 2019)
Tharika joined the Synergy Global Graduate Finishing Program in 2017 as an Effective Intern.
She is an international student from Sri Lanka, currently pursuing her post-grad degree in Management at the University of Melbourne. She graduated from University of Leeds (UK) with a Bachelors of Mechanical Engineering. She strongly believes her engineering background, coupled with the management degree, will make her an extremely valuable asset to any firm.
After completing her B.Eng., she was offered a Marketing Internship for the Seylan Bank Card Centre in Sri Lanka. She supported the Marketing Team in the implementation of their Corporate Communications Plan. She supported the team with business reports including Project Plan Updates for the Board & Executive. During her time at the University of Leeds, she has been actively involved as a committee member of the Mechanical Engineering Society, Bollywood Dance Society, & National Hindu Students Forum (NHSF Leeds). As a Bollywood Dance Choreographer, she created original choreography, plus prepared students for high quality performances & competitions.
She was the course representative at her university where she was responsible for the welfare of the students, by encouraging them to provide feedback & contributing to the further improvement of the education services offered. She also worked as a Student Ambassador during applicant days for prospective new students, conducting campus tours & generally answering questions.
The Key Professional Interests she is focusing on during her Effectiveness Internship are:
♦ Learning about the field of Organizational Development (OD), particularly Professional Services & Business Culture.
♦ Understanding how Effectiveness Consulting, Change Facilitation & Executive Coaching can enhance Productivity.
♦ Gaining more knowledge by using distinctive tools/methods for Continuous Quality Improvement (CQI).
♦ Creating a Professional Role Profile, Individual Performance Plan (IPP) & Personal Development Plan (PDP).
♦ Developing confidence in my competences/capability, as I work towards becoming an incredible Executive Assistant.