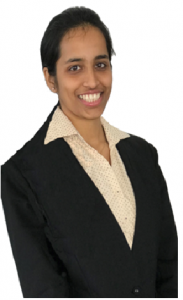 sushmitha@synergy-global.com
+61 (0) 469-779-758
Sushmitha Bhogadi, EIT- ICT
Masters Business Information Systems (Current)
Sushmitha joined Synergy Global's Graduate Finishing Program in Aug 2018, as an Effectiveness Intern.
She is an international student from Hyderabad, India, currently pursuing her Master's in Business Information Systems at Swinburne University in Australia. Previously, Sushmitha worked as a technology professional in Enterprise Risk Services with 2yrs experience in Risk Advisory & Information Systems Process & Controls Auditing in Deloitte Touche Tohmatsu India LLP. She brings knowledge from diverse fields such as IT Risk Assurance, Governance, Compliance & Change Management, adding insight & value for Clients, & our team.
Working as a Customer Service Representative Sushmitha has enhanced her communication skills, time management & people skills. She is maintaining a balance between the University & some Part-time work - scoring 3.25 GPA/4 & achieving a Golden Key International Honour Society Award. She believes this was achievable by 'working smarter'.
During her Masters at Swinburne, she has gained the ability to:


Demonstrate critical thinking by working on numerous Case Studies


 Analyse requirements/use tools as indicated by her high distinction


Develop a better understanding regarding the 'Business Domain'


Use various techniques (Customer Stories; Interviews) & report


Prep detailed scoping documentation from business requirements


Demonstrate solid knowledge of Project Management, Software Dev. Life Cycle (SDLC) & methodologies (Agile, Scrum, Waterfall) - to deliver outcomes, including scope, quality, & cost management


Use Structured Query Language(SQL) as a standard computer language for relational database management & data manipulation (to query, insert & update data); MS Access to manage/manipulate unstructured & structured data


Model Entity Relationship Diagrams to represent business needs


Utilise BI tools (Qlik, PowerBI, Power Pivot) to provide insights into decision-making
In addition, Sushmitha has been recognised for her punctuality & flexible cooperation in assisting colleagues (both at University & at work) - achieving common goals. She is friendly, caring & hard-working, so leaves a good impression with everyone she has worked with - including customers/clients, so she is a great fit with the Synergy Global team.
The Key Professional Interests she is focusing on during her Effectiveness Internship are:

Learning about the field of Organizational Development (OD), particularly Professional Services & Business Culture.


Understanding how Effectiveness Consulting, Change Facilitation & Executive Coaching can enhance Productivity.


Gaining more knowledge by using distinctive tools/methods for Continuous Quality Improvement (CQI).


Creating a Professional Role Profile, Individual Performance Plan (IPP) & Personal Development Plan (PDP).


Using the SG Competency Framework to develop more confidence in my competences/capability as a Masters Intern.


Improving the technological functionality of our existing system at Synergy Global & transferring my skills to the team.