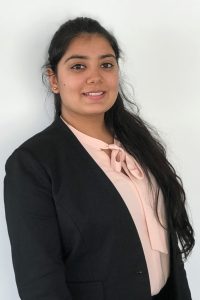 nidhi@synergy-global.com
+61 (0) 447-212-020
Nidhi Rathore, Effectiveness Intern - ICT
Bachelor of Computer Science & Engineering, Masters in Information Technology Business Analysis (current)
Nidhi joined Synergy Global's Graduate Finishing Program in Aug 2018, as an Effectiveness Intern.
She is an international student from Gujarat, India, currently pursuing her Master's in Information Systems at Swinburne University, Australia.
Nidhi is a keen Effectiveness Intern, with a willingness to pursue her career in Business & a focus on strategic priorities. Previously, she has worked as a Software Intern at Hence Media PVT Ltd. Through this she used her technical & analytical skills to help solve complex issues – for example: Reporting and Creative thinking.
During this period, she also managed to prioritise tasks & improve time management & effectiveness. Working in a professional environment, has also helped her to enhance her communication & team skills – especially when interacting with Clients & variance reporting on her daily outcomes.
During her Masters at Swinburne, she has gained the ability to:

Develop a better understanding regarding the business domain


Apply business theories on Case Studies (taken from real organisations)


Develop her creativity with innovative ideas to evaluate Business Strategy & Plans. For example: Business process modelling & Business redesign


Evaluate project management issues & identify cost-effective solutions – for example: Applying Six Sigma


Complete detailed Scope Documentation for Client's requirements – for example: Agile and Waterfall approach


Explore the organisational, societal & technical impact of big data, unstructured data, & modern analytical tools for ICT.
Currently, as an International Student in Melbourne, she uses her skillset effectively, with working part-time at Lord of the Fries, completing her University Assignments; & interning with Synergy Global, where she hopes to complete her Bronze/Silver Internship Certificate.
The Key Professional Interests she is focusing on during his Effectiveness Internship are:

Learning about the field of Organizational Development (OD), particularly Professional Services & Business Culture.


Understanding how Effectiveness Consulting, Change Facilitation & Executive Coaching can enhance Productivity.


Gaining more knowledge by using distinctive tools/methods for Continuous Quality Improvement (CQI).


Creating a Professional Role Profile, Individual Performance Plan (IPP) & Personal Development Plan (PDP).


Using the SG Competency Framework to develop more confidence in my competences/capability as a Masters Intern.


Improving the technological functionality of our existing system at Synergy Global & transferring my skills to the team.
Nidhi currently lives in Camberwell, a leafy suburb of Melbourne, AUS with her friends. Her interests outside of Uni & Work include cooking, cricket, music, dancing, mentoring and computing.