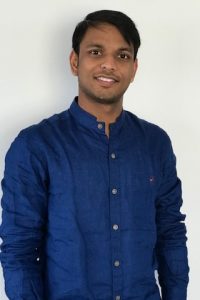 kunal@synergy-global.com
+61 (0) 416-786-526
Kunal Jindal, Effectiveness Intern - ICT
 Masters in Information Technology Business Analysis (current)
Kunal joined Synergy Global's Graduate Finishing Program in Aug 2018, as an Effectiveness Intern.
Kunal is an international student from India, currently pursuing his master's in business information systems specializing in business analysis at the Swinburne University of Technology. He graduated from Panjab University (India) with a Bachelor of Commerce. He is confident that his business and financial background, coupled with the knowledge of information systems and information technology will make him highly lucrative to the employers around the world as a potential Business Analyst.
Kunal has been a high achieving student in his bachelors and have participated in various exhibitions, seminars, competitions and won one of the startup competitions (hosted by Google) in India. He has been working with various volunteer organization like the Swinburne's own Swinburne Student life and Business Without Borders. His experience has helped him to learn core soft skills and contribute to the community at the same time.
During his master's at Swinburne, he has gained the ability to:

Gathering business requirements for a software solution


Planning and strategy tools for a project


Gathering, sorting and visualization of data


Liaising and management of stakeholders


Tools like Power BI, MS Access, My SQL, Qlik and Bizagi modeler


Modelling of Business cases, processes and strategy analysis


Comprehensive knowledge of Business Analysis Body of Knowledge.
The Key Professional Interests he is focusing on during his Effectiveness Internship are:

Learning about the field of Organizational Development (OD), particularly Professional Services & Business Culture.


Understanding how Effectiveness Consulting, Change Facilitation & Executive Coaching can enhance Productivity.


Gaining more knowledge by using distinctive tools/methods for Continuous Quality Improvement (CQI).


Creating a Professional Role Profile, Individual Performance Plan (IPP) & Personal Development Plan (PDP).


Using the SG Competency Framework to develop more confidence in my competences/capability as a Masters Intern.


Improving the technological functionality of our existing system at Synergy Global & transferring my skills to the team.
Kunal lives in Nunawading, a beautiful eastern suburb in Melbourne with his flatmates. He loves to play cricket, computer games and watch movies during his recreational time.