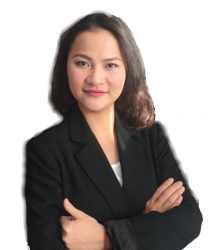 Hanh@synergy-global.com
+61 (0) 452-586-998
Hannah Nguyen

Bachelor of Banking & Finance; Master of Financial Analysis; Member of Golden Key International Honours Society

Hannah joined Synergy Global Effectiveness Intern Team (EIT) in December 2015, after completing her Master of Financial Analysis at La Trobe University. She is responsible for Business Development as well as supporting Chief Executive - Heather-Jane Gray & other consultants to implement Synergy Global's business strategy. In July 2016, she became the Team Leader of EIT & also acted as Executive Assistant.
At the time completing bachelor, she was working as an intern at Asia Commercial Bank (ACB), one of the biggest banks by capital in Vietnam. She played an active role in consulting/processing credit application.  Her strong technical knowledge & decent communication skill contributed to the increasing quality of contract & achieving sales target of the team. Moreover, she also gained her favourite expertise in project budgeting at HD Bank. Hannah managed her projects with enthusiasm, which enabled her to extent her project with higher value. She was given a high capital 40 billion VND - VietBull contract, which she had successfully planned & reported within a week time.
Her passion for volunteering brought her to create Food Distribution event every Mid-Autumn & Lunar New Year in Tan Phu, HCM city & Friendship Book Club in Banking University. She also got Appreciation Award from La Trobe Homework Club for helping students from grade 6 to 8 with Maths.
 Her expertise & key interests focus around these 5 themes:


 Communication, Networking, Building Relations


 Financial Analysis, Budgeting, Financial Planning


 Project Management, Business Research, Competitive Analysis


 Social Media, WordPress, OneDrive, Server


 Mentoring, Cascading, Continuous Quality Improvement
Hannah has 3-year experience of financial analysis, 4-year experience of organizing events, finding sponsors & more than 20-year of being awesome. Hannah's motto of life is" If you really want to do something, you'll find a way. If you don't, you'll find an excuse."
Being an extreme extrovert, she gets "Human Addiction", where she gains energy & enjoys working with people. She is an active member of Sister Club, Golden Key Society & Latrobe Post Graduate Club.