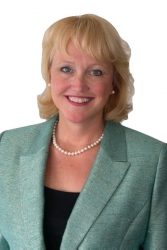 eileen@synergy-global.com
+1 (0) 919-272-1721
Dr Eileen Dowse

Ph.D., CMF (Certified Master Facilitator), and certified Lifeskills Coach

Dr. Eileen joined Synergy Global as Team Leader – USA (West) in 2016.She is a recognised global business leader & an Organisational Psychologist, specialising in organisational health & effectiveness. She has extensive practical experience in the field of strategic global communications, leadership competencies/development & cultural change; working with individuals, teams & large-scale systems.
Eileen has collaborated with different industries including high-tech, manufacturing, non-profit & government agencies throughout North America, Europe, Australia & Asia. For her PhD, she researched Key Personality Traits Contributing to Accountable Behaviour – this has helped foster productive relationships within organisations & strengthen employee commitment to ensure greater levels of teamwork & effectiveness.
As a recognised speaker, corporate educator, executive coach & award-winning author of Churchill Fellowship, researching into the development of The Naked Manager: How to build open relationships at work, Eileen's programs are thought-provoking, results-oriented, entertaining & inspirational. Her new book The Agile Business Leader: The Four Roles of Successful Leaders, focuses on being responsive, adaptive & effective in an era filled with confusion, contradictions, & corruption.
She was part of a team who received the MacArthur Genius Award, in recognition of exemplary programs, events & support of over 30 NGO's from around the world. Helping then to become more facilitative, collaborative and effective.
Eileen has also received the Entrepreneurial Excellence Award for Customer Service, from Working Woman Magazine & the Impact 100 Award, from Business Leader Magazine. Both these awards recognise outstanding leaders for their hard work & contributions in the industry.
 Her expertise and key interests focus around these 5 themes:


 Leadership Effectiveness-providing relevant information & motivating learners to learn


Organisational Development - positively affecting corporate culture, values, systems & behaviour


 Executive Coaching for creating solutions, attaining goals & increasing performance


 Personality Assessments - developing talent management solutions through statistically, reliable results


 Facilitation - ensuring meetings are productive, focused, inclusive & effective
Eileen uses common-sense wisdom, contagious humour and innovative ideas to offer exceptional professionalism & customised services. She has mastered the art of identifying the root of organisational issues & has implemented strategies that allow leaders, teams, & entire organisations to become more effective.
Eileen is widely regarded as one of the thought-leaders in international facilitation as well as being a co-founder & Chair of The International Institute for Facilitation. She is a member of the UN Peace Coalition to help develop leaders for promoting peace. She also works with The Initiative to Educate Afghan Women, to help Afghan women participate fully in the governance & development of their country.