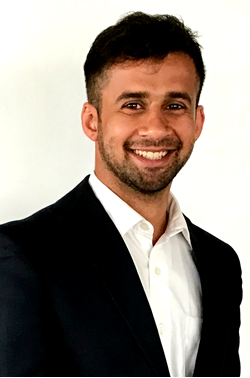 avdesh@synergy-global.com
+61 (0) 426-428-100
Avdesh Shivalaya
Bachelors in IT, Masters in IT Business Analysis (Current)
Avdesh joined Synergy Global's Graduate Finishing Program in Jan 2018, as an Effectiveness Intern. He is an international student from Punjab, India, currently pursuing his Masters in Info Technology & Business Analysis at Swinburne University.
 Even though he came from a remote town in the Punjab, India (located in the Himalayan foothills), his interest in IT encouraged him to seek this career. He graduated from Visvesvaraya Technological University, Belgaum with a Bachelor's Degree in Computer Science & Engineering.
Previously, Avdesh has worked as a Software Developer at Atyati Techonologies & Omne Agate PVT Ltd. This helped him to enhance his problem-solving skills & work with diverse teams to complete various tasks within stipulated deadlines.
 Currently, as a busy International Student in Melbourne, he uses his planning & organisational skills to balance with working part-time at United Petrol Pump; completing his University Assignments; & studying with Synergy Global, where he hopes to complete his Bronze/Silver Internship Certificate.
 Despite his busy schedule he volunteers with various organisations such as Bicycle Network, SME 360, Swinburne Rotaract etc. Volunteering enabled him to help others, & also has helped him demonstrate reliability, teamwork, problem-solving & effective communication.
The Key Professional Interests he is focusing on during his Effectiveness Internship are:

Learning about the field of Organizational Development (OD), particularly Professional Services & Business Culture.


Understanding how Effectiveness Consulting, Change Facilitation & Executive Coaching can enhance Productivity.


Gaining more knowledge by using distinctive tools/methods for Continuous Quality Improvement (CQI).


Creating a Professional Role Profile, Individual Performance Plan (IPP) & Personal Development Plan (PDP).


Using the SG Competency Framework to develop more confidence in my competences/capability as a Masters Intern.


Improving the technological functionality of our existing system at Synergy Global & transferring my skills to the team.
Avdesh lives in Kew which is a delightful inner suburb of Melbourne, VIC, where he is living in a shared house. During his free time, he loves to go for walks or occasionally play's footy.