Celebrating 20yrs with our lived purpose
'Leveraging talent to make the world a better place'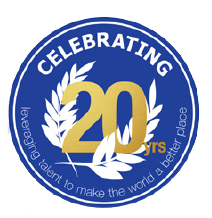 Heather-Jane Gray founded Synergy Transatlantic in San Francisco, California, USA in 1996, using her experience of large complex organisations to help clients lead change more effectively.
She was a Harkness Fellow at UC Berkeley at the time, doing her post masters research into Values-based Leadership & Cultural Change. She started as a lone OD Practitioner working across 45 different States before partnering with John Simon a specialist in communications, whom she met whilst working at Johnson & Johnson HQ in New Jersey. She later recruited Stephen Breese an excellent facilitator, whom she met whilst working with Blessing White in California. He became our first Team Leader – USA, followed by Anne Powell who was an Effectiveness Consultant who championed our health practice from Louisville, KY. After building a team in America, Heather-Jane returned to London to recruit Effectiveness Consultants, Change Facilitators & Executive Coaches to serve Private, Public & Not-for-Profit clients.
In 2005, Heather-Jane moved to Melbourne, AUS where Synergy Global is now based and built our practice from scratch with the help of Diane Hewat and Andrew Mountford. She has had the privilege of attracting a wide range of experienced top talent from all walks of life, which adds to the diversity and strength of our team today. Over the years we have built a shared leadership model that gives robust consideration to decisions and the quality of our client relationships – ensuring their Return on Investment (ROI).
As part of our 20th year celebration we are offering clients a range of special offers.